Drumroll please – the ILC Spot the Difference Winners Are…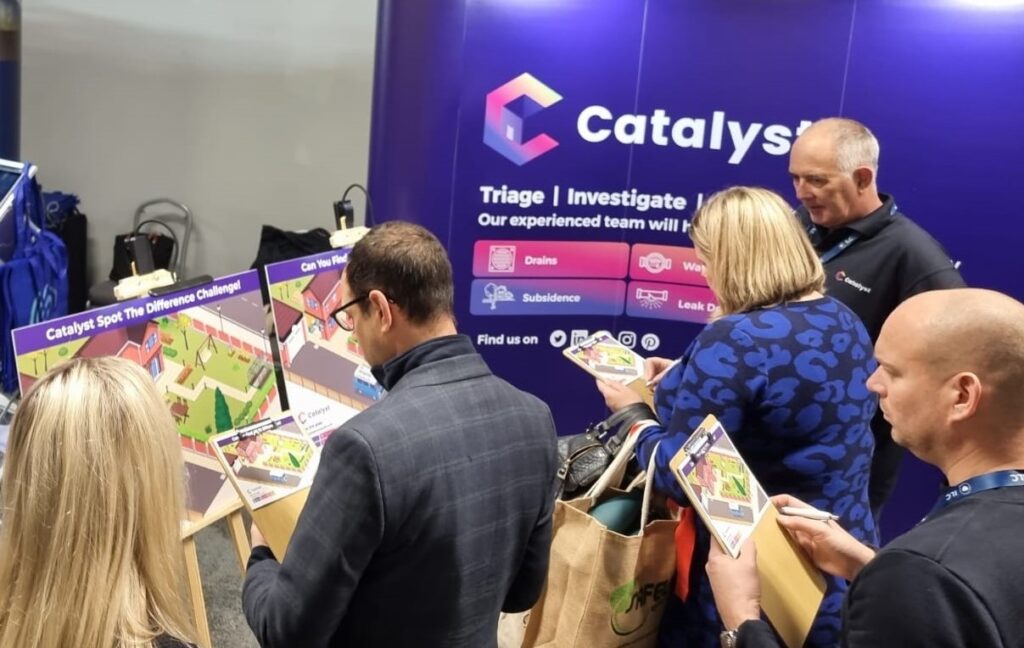 We asked visitors to our stand at the I Love Claims Home and Property Claims Conference to spot the difference – now Catalyst Services UK can announce the winners.
Thank you to everyone who stopped to chat at the Catalyst stand during the conference at the CBS Arena in Coventry on Thursday 10th November.
Our team at the event enjoyed the opportunity to meet colleagues from across the insurance industry, compare notes, and learn from other peoples' experience and expertise.
Service brain teaser
On the day, we also gave everyone a fun challenge. Could they spot the 10 differences between two similar-looking pictures of a detached house, and did they know what those differences pointed to?
Catalyst Managing Director Brad Jackson said: "It was a bit of a brain teaser to test the senses on the day, and spark some conversation about Catalysts services we deliver for our insurance clients.
"I'm glad to say, a lot of people got into the spirit of the occasion, spurred on no doubt by the three quality prizes we were offering.
"What was impressive was the number of visitors who spotted all 10 differences, all highlighting tell-tale signs of common drainage faults, helped only a little by prompts from our expert team."
Spot the winners
So without further ado, here are the prize winners:
1st Prize – An Amazon Echo Show – has gone to Keith Doyle, Senior Home Technical Claims Handler at Saga Insurance.
2nd Prize – A Ring video doorbell and chime – was won by Sue Stansfield, Head of Home Claims at Hastings Direct.
3rd Prize – A bottle of Prosecco – is being sent to Jake Soden, Chartered Building Surveyor at Gateley Smithers Purslow.
Brad Jackson said: "We value the networking opportunity the I Love Claims events give, which is why we were a gold sponsor at the conference, and we hope to see everyone at the next event.
"In the meantime, if anyone wants to discuss the drainage, clean water pipe, subsidence, or home emergency challenges they are facing, we would be happy to continue the conversation."
Talk to the Catalyst team
Catalyst is a leading provider of specialist services to the insurance industry, including drainage unblocking and repairs, septic tank maintenance, subsidence investigation, water supply pipe services, and home emergency response.
Start a conversation with Catalyst today. Call 0800 870 8080. Email [email protected].