Water Supply Pipes
Ensuring the water supply to homes and businesses is leak free is of critical importance.
From locating the leak to renewing supply pipes, Catalyst delivers a full range of water supply services across the UK. We can deploy qualified and experienced water engineers and technicians anywhere in the UK to carry out emergency or planned water supply works, including investigations, repairs and pipe replacement.

Our water supply services –
who we work for
Our water supply service customers include insurance providers, loss adjusters, insurance brokers, property agents and landlords, commercial businesses and public organisations. We also work directly for homeowners.
What is a water service pipe?
The water main, or main carrier pipe as it is also called, is the responsibility of the water utility company. A water service pipe is the pipe that takes clean drinking water from the water main to each individual property.
Water service pipes may be the responsibility of the homeowner or business. In some cases, more than one business or domestic property will share responsibility for a water service pipe if that pipe is helping supply water to more than one property.
This diagram shows who is responsible for each type of water pipe. In addition, a supply pipe that runs under a highway or property owned by someone else to an outside stop tap is also the responsibility of the service user. Where properties share the same supply pipe, they are jointly responsible for its upkeep.
Leak detection
Central to our water supply service offering is a comprehensive leak detection service. Water leaks are wasteful, costly, and can cause flooding and damage to properties.
We will respond quickly to any reported water leak, or suspected leak, deploying the best expertise and technology to identify its location, cause, and most appropriate, cost-effective and sustainable way to fix it. Our qualified technicians use a range of techniques to detect and precisely locate underground water leaks, including: ground microphones (acoustic profiling); water listening sticks; leak correlation; and tracer gas analysis.
For more information, go to our dedicated leak detection service page.
Pipe tracing
Property owners may not have up-to-date plans showing the location of water supply pipes. In these cases it may be necessary to carry out pipe tracing.
Pipe tracing can also be carried out to detect the location of leaks, or to solve disputes between neighbours about who is responsible for maintaining a water supply pipe.
Catalyst can provide a comprehensive range of pipe tracing services that will quickly plot the location of underground water pipes, usually passively without the need to carry out costly and disruptive excavations.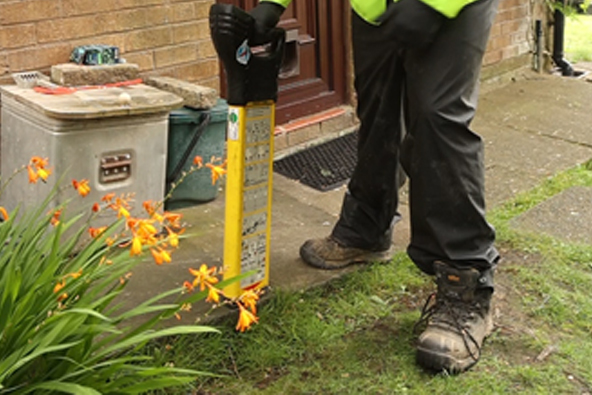 Point water pipe repair
The process of repairing a pipe in one discreet location. It may involve having to excavate the pipe. The repair may involve replacing a section of pipe or fitting a specialist clamp over the hole causing the leak.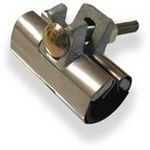 Water pipe moling
If part or the entire water pipe needs to be replaced, the best method may be to carry out moling. Compressed air is used to force a moling head through the soil.
A new water pipe can then be inserted in the underground channel created. Moling greatly reduces the amount of ground excavation needed to install a water pipe, making it a less disruptive, less costly and more sustainable way to install new water pipes.
Water pipe re-routing
Catalyst can also carry out rerouting of water service pipes. This may be necessary if a problem with a pipe, for example a leak, is found in a location where it is hard to reach.
Rerouting the water pipe will bypass this problem and allow the pipe to be laid where it is easier to maintain it, with easy access points that can be used for future maintenance.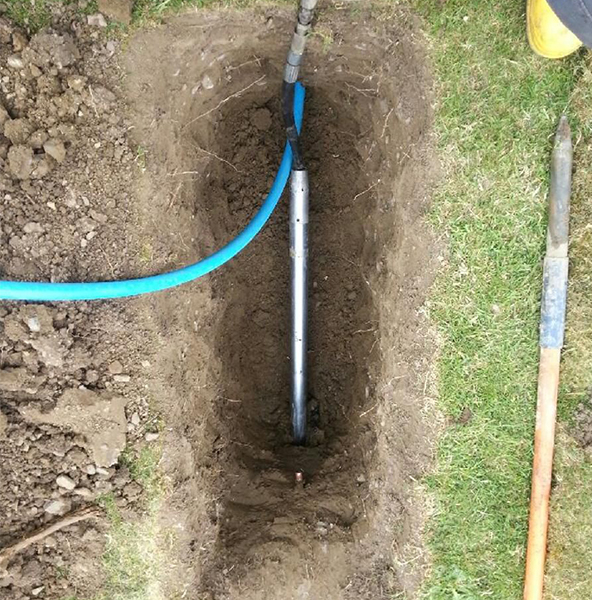 Water pipe replacement
Where a water pipe has seriously deteriorated or is made of material that is no longer suitable, Catalyst will replace them with modern pipework, laid to the latest standards and service equipment, including modern water meters.
Water quality testing
Our water quality testing, carried out in partnership with accredited laboratories, covers particulate and chemical contamination, as well as legionella sampling and testing.
Catalyst carries out water quality testing to ensure your water supply is potable and safe to drink. This may be linked to concerns about contamination of drinking water supplies or of hot water systems.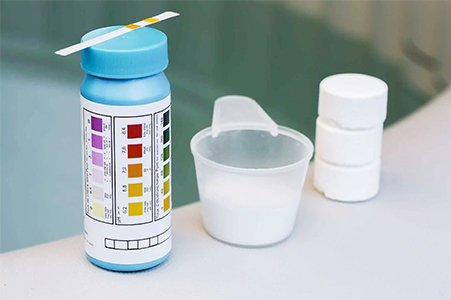 Desktop and site visit validations
It may be necessary to get a second opinion on water supply investigations carried out by third parties, and the reports they create.
We can carry out the technical analysis needed for this validation process as a desktop exercise or by undertaking out own independent site investigations.
If you have concerns about a technical report prepared by a third party about the water supply to your property, or its findings need to be updated due to changing circumstances, undertaking such a validation process could save significant cost or future difficulties.
A trusted water pipe supply service
All our water supply technicians and engineers hold relevant qualifications and accreditations to work on water supply systems.
They are also NRSWA-trained so they are qualified to work in roadways and around other utility assets.