Drain Services
Catalyst provides a comprehensive range of high quality, cost-effective drain surveying, unblocking and repair services.
Drains and sewers in domestic and commercial premises are often out of sight and out of mind. When they go wrong they can cause major inconvenience, health risks and structural problems to homes and business premises.
Our in-house drain experts project manage each surveying, drain unblocking and drain repair job every step of the way. That way our customers get a high quality, transparent service at the most competitive price.

Our Drain Services –
who we work for
We're trusted to deliver drain and sewer services for many different customers.
These include insurance companies, loss adjusters, insurance brokers, commercial businesses, property landlords, public organisations, and directly for home owners.
Drain Investigations
Catalyst has the technology and expertise to quickly identify the cause of any drain or sewer problem. Then we put in place the right unblocking or repair measures to solve it. The starting point is to carry out a thorough drain investigation.
CCTV Drain Surveys
The best way to look for faults in drains is to carry out a CCTV drain survey. Our expert drainage engineers guide a mini video camera into the drain allowing them to view the inside of the pipe.
By using this clever CCTV survey technology, it does not matter where the fault is located, even if it is right beneath your property – we can reach it without causing any disruption.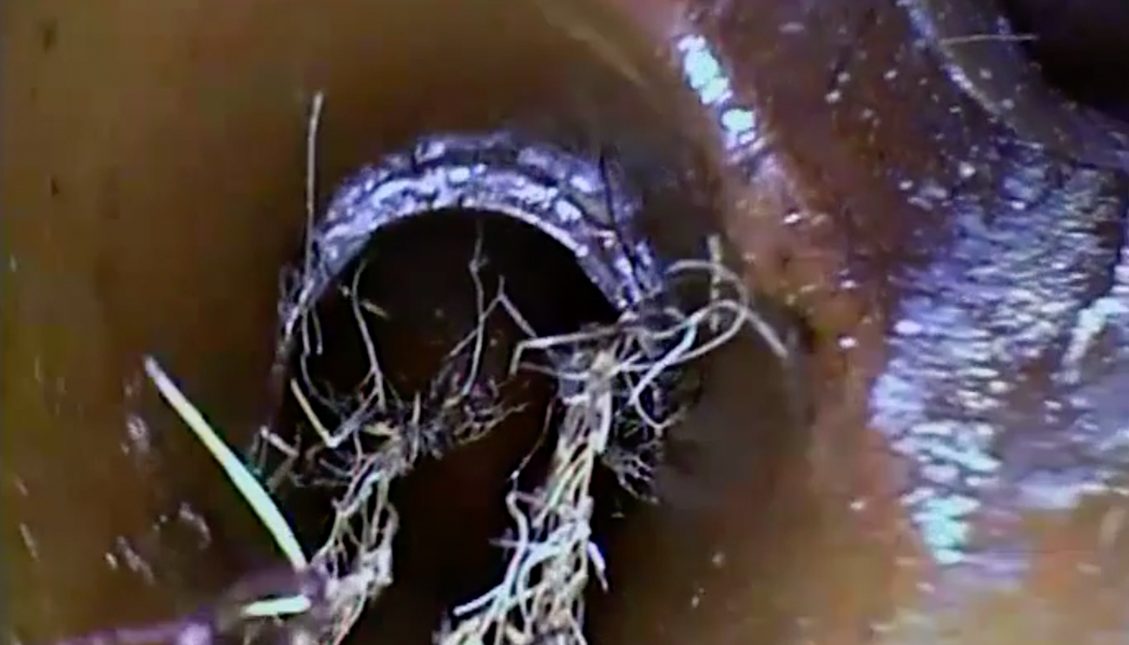 Pushrod CCTV drain survey camera
A pushrod camera is attached to the end of a flexible rod which is guided into the drain from an access point.
This is the most efficient and cost-effective way to find problems in the drain pipe.
Robotic CCTV drain survey camera
Robotic CCTV survey camera are attached to a wheeled carriage, powered by electricity, which can be sent along wider drain pipes and larger sewers. Robotic drain camera have articulating heads that controlled by the CCTV drainage engineers or even mini cameras that can detached and travel up lateral pipes.
Drain dye tests
There are a range of other drain investigation techniques we can use. These include carrying out drain dye tests.
A powdered non-toxic dye is introduced into the drain system, for example from a sink or a manhole. Pipes can then be monitored in other parts of the system to see if the dyed water appears, showing the pipes are connected
3-D drain and manhole scanning
If necessary, we can carry out three-dimensional scans of drain pipes or manholes associated with your property. This provides us with high quality images of the entire internal surface of the asset. It also generates a 3-D image that helps us assess the structure's performance
CCTV drain survey reports
The CCTV drain and sewer cameras can be used to identify the cause of the drain problem and then put it right, especially if it is something like a simple blockage.
However, in the hands of our experts CCTV drainage engineers, the technology can also be used to create a drain survey report. This contains all the information and data needed for careful assessment of the condition of the drain and what action is needed to resolve a problem.
Information in a CCTV drain survey report includes:
Connections within the drain system

Dimensions of all drains – length and width

Material drains are made from

Locations of all drain access points

Directions of water flow

Location of connection with main sewer

Identification of any shared drains

Location of blockages

Location and nature of defects
Our CCTV drainage survey engineers will send such a report to the expert team at Catalyst so we can quickly assess what further steps need to be taken to resolve any problems identified.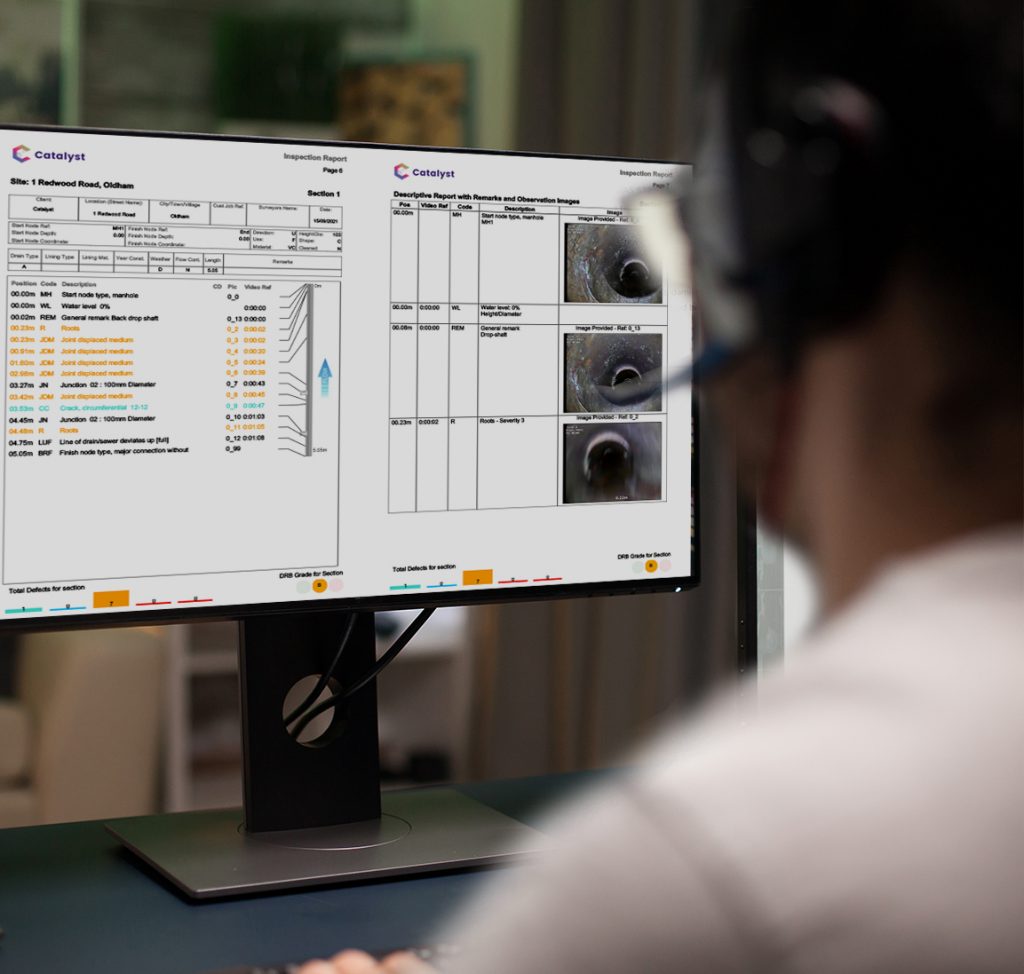 Cost of drain surveys
The CCTV drain and sewer cameras can be used to identify the cause of the drain problem and then quickly put it right, especially if it is something like a simple blockage.
The only alternative is to carry out exploratory excavations which are more expensive, disruptive and slower to complete. In some circumstances, digging down to the drain is impossible because it is located directly beneath a building.
Our CCTV drain surveyors are highly trained and experienced and will quickly identify the best way to get the information they need to diagnose any drain problem.
This ensures we only carry out drain survey work that is necessary so we keep drain investigation costs firmly under control.
Find out more about CCTV drain survey services. Call 0800 870 8080. Email [email protected]
Drain and sewer unblocking
Catalyst uses a comprehensive range of drain and sewer unblocking techniques to counter blockage problems. This will leave you drainage system working optimally once more. It will also protect your drains from further, more costly, maintenance problems caused by persistent blockages.
Drain and sewer blockage removal
Build-up of blockages is one of the most common problems in drain and sewer pipes. Blocked pipes can lead to problems such as slow draining sinks and baths or toilets that do not flush properly.
In worst cases, wastewater can back up and cause sewage floods in homes and business premises. That is why Catalyst drain maintenance teams will respond quickly and professionally to any drain and sewer blockage problem. Our aim is always to clear the blockage, then get to the root of the problem and solve it, preventing similar problems occurring again.
Drain jetting
The most common way to remove a drain blockage is to use powerful water jets. This allows the blockage to be removed remotely, quickly and effectively.
Our drainage engineers send a water jetting hose into the drain to the location of the blockage then blast it with jets of water, removing the material stopping the flow of water.
Catalyst has drain cleaning teams that use the most powerful and sophisticated water jetting systems in the UK. These include water jetting and vacuumation tankers that can remove hardened concrete from drains and sewers.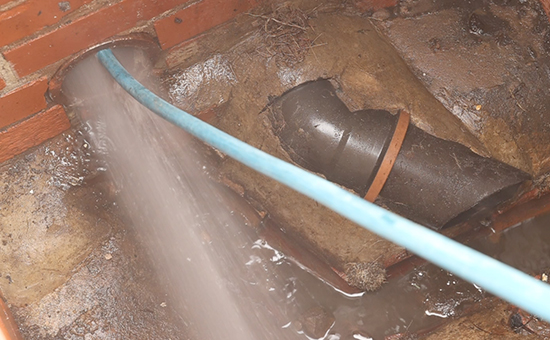 Tree root removal
Tree root infestations can cause serious blockage problems in drain and sewer pipes, contributing also to increased risk of pipes becoming damaged.
Catalyst teams are very experienced at using high pressure water jetting to remove tree roots from underground pipes, if necessary using a jet vac tanker (see specialist tankers, below), where infestations are particularly extensive.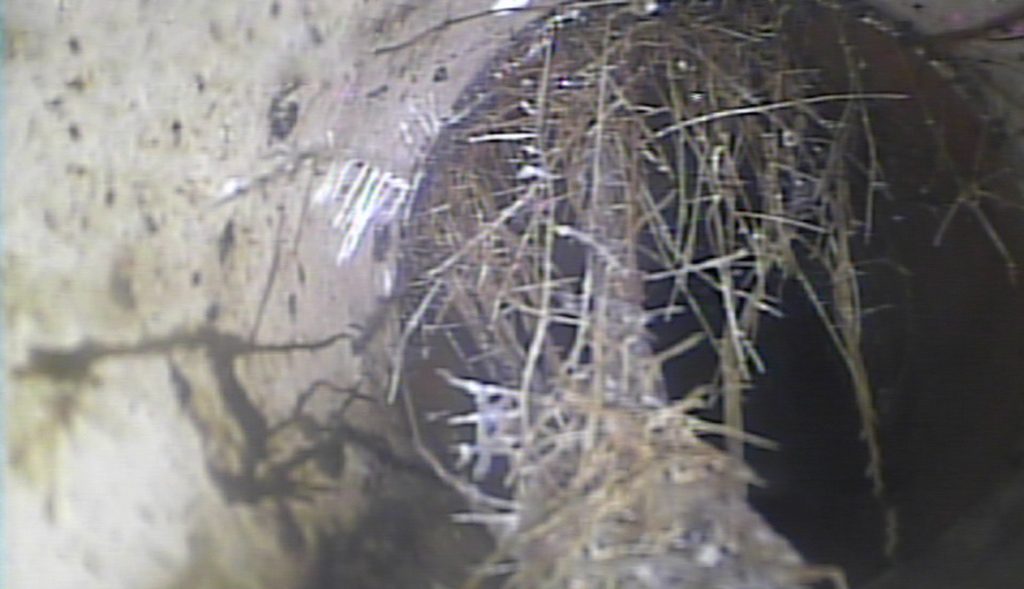 Robotic cutting
Robotic cutting is a technique that uses mechanical devices to remove blockage material, modify pipework, or to reduce the risk of blockages occurring.
A cutting tool on the end of a cable is guided along the sewer pipe. Then, a remotely controlled cutting head, usually in the form of a grinder powered hydraulically or with electricity, is used to remove material.
Our teams use robotic cutters to remove items such as stake posts that are accidently driven through sewers. Or to trim lateral connections that protrude into sewers, creating a snagging point that can cause blockages.
We also use robotic cutters to remove scale that can build up in pipes and mortar or concrete. The technique is also essential for reopening lateral connections after a drain or sewer has been lined.
Electro-mechanical pipe cleaning
Where it would be unsafe to use water jetting, for example inside a building where there would be a risk of flooding, our teams can use an electro-mechanical pipe cleaning device.
This has a rotating head that breaks through blockage material, allowing it to be removed from a pipe. This method is often used to clean soil pipes and downpipes in buildings.
Drain rodding
In some cases, blockages can be quickly removed using drain rods, flexible poles that allow a drainage engineer to dislodge a blockage.
Drain rods should only be used by experts. Serious blockages are often causes by drain rods becoming stuck down drains.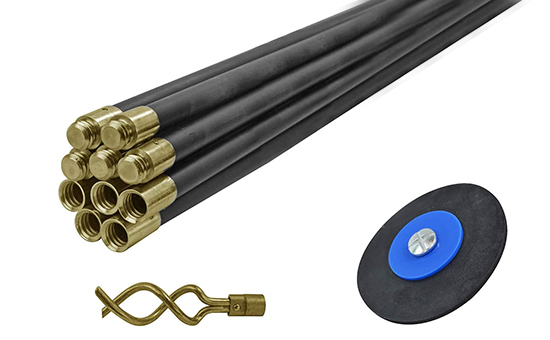 Drain excavation
In extreme circumstances, it may only be possible to remove blockages by digging down to the pipe.
We see this as a last resort because of the extra cost and inconvenience caused. Catalyst's drain teams can deploy experienced drain excavation teams to do this work for you.
Specialist tankers
Catalyst uses a range of specialist tankers, including jet vac tankers and bulk liquid vacuumation tankers, so drain cleaning and unblocking tasks are carried out quickly and sustainably with least disruption.
Our teams use jet vac tankers to removing silt, stones, infestations of tree roots, and build-ups of fats, oils and grease (FOG), as well as items wrongly flushed down toilets, such as wipes.
We use vacuumation tankers to remove wastewater, for example where there has been an internal flood, and transport it for safe disposal at an authorised site.
Drain tracing
It may be important to trace and identify the precise location of a pipe underground, for example to assess whether it is possible to carry out an excavation.
Catalyst does this by using a CAT and sonde. The drain tracing equipment consists of a sonde, a radio transmitter attached to a CCTV survey camera head, that sends a signal to a CAT detection advice held by our drainage engineer.
By sending the camera along the pipe, the engineer can locate the sonde above ground, so can be absolutely sure of its position.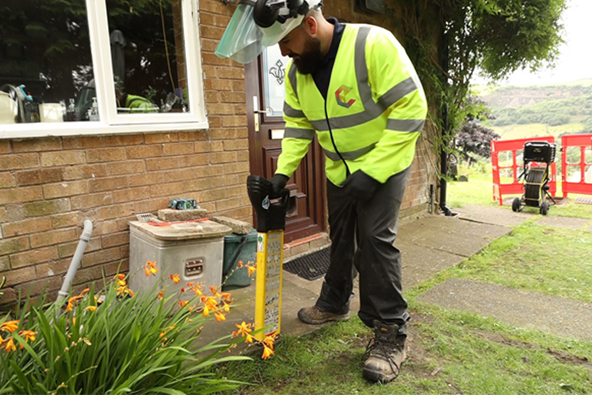 Drain and sewer blockages –
the causes
Build up of oil, fat and grease (FOG) and food waste in pipes leading from kitchen.
Ground movement, either subsidence or heaving, causing pipes to sag (slowing water flow), crack, become displaced, or collapse.
Tree roots getting into pipes, often through cracks and displaced joints.
Cracked drain pipes and displaced joints creating snagging points for debris, which then allows further material to build up.
Partial of full collapse of pipes, often caused by the movement of vehicles above them.
Period products and other items, including wipes, being wrongly flushed down toilets.
Leaves, other vegetation or silt being washed into drains, or all three.
Build-up of scale and other mineral deposits inside pipes.
Pipe systems not having the capacity to cope with changes to buildings – additional structures, change of use or more intensive use.
Our drainage teams have the expertise and experience needed to spot these causes, and put in place the best and most cost-effective solutions.
Drain and sewer repair
We deploy experienced and reliable teams to carry out all drain repairs quickly and efficiently. Dealing with defects promptly eliminates further risk property and to our clients' health and wellbeing. We are experts in carrying out 'no dig' repairs that minimise cost and inconvenience.
Broken drains can result in wastewater leaking out, either into buildings or into the ground, causing health hazards and environmental pollution. They can also let ground water in, reducing the pipe's capacity for sewage. Leaving damaged drains unrepaired will store up more costly problems for the future.
Catalyst uses the latest remote access 'no dig' pipe lining systems to repair drains without having to excavate them. The process is called cured in place pipe (CIPP) lining. Repairing a drain pipe with CIPP technology is most often the quickest, least costly and least disruptive method to use.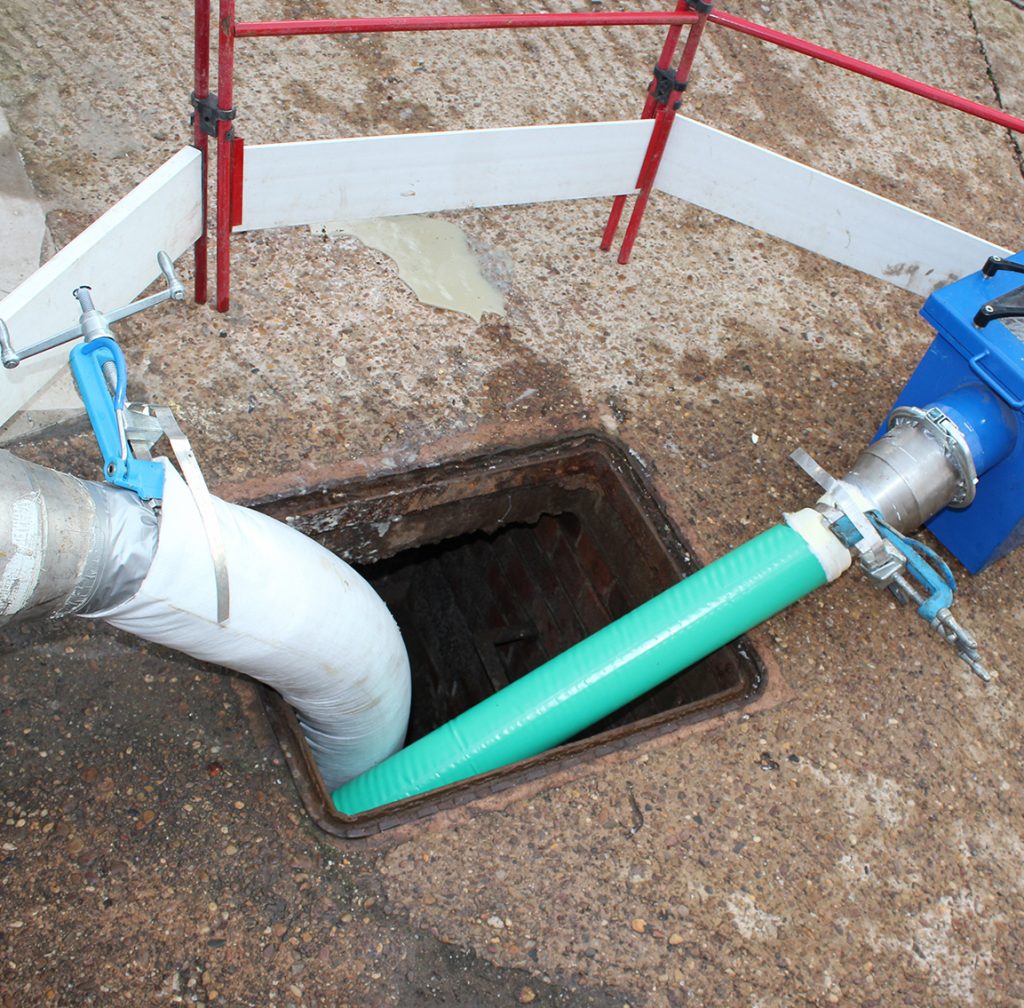 Patch liners
Patch liners are short tubes of glass reinforced plastic (GRP) that can be installed into pipes to cover cracks, creating a new pipe within a pipe.
The liners, usually less than two metres long, are impregnated with resin. This hardens inside the pipe, creating a tough, water resistant barrier, designed to last for many years.
Full liners
Where damage has been identified along a considerable length of pipe, the best option is likely to be to install a full length liner.
This can be made from GRP or felt. As with patch liners, a full liner is impregnated with resin, which hardens once the liner is guided into place inside the drain.
Pipe lining systems
Catalyst drain rehabilitation teams will select the best CIPP system to repair your drain or sewer.
This involves selecting the right curing method. Main ones are:
Ambient cure
The resin selected cures in ambient temperature. This is often chosen for lining shorter and narrower drain pipes.
Hot water and steam cure
Water is poured into the pipe under pressure and heated up to cure the liner. Steam can also be used. This is often used for larger culverts and sewer pipes
Ultraviolet light (UV) cure
The resin is cured with UV light delivered by a UV light train. This is a very sustainable option.
Drain excavation and repair
In some cases, for example where a drain has collapsed, the best drain repair option is to excavate it and replace the pipe with a new one.
Catalyst's experienced drain and sewer excavation teams will complete this task as quickly and cost-effectively as possible, causing least inconvenience to the customer as possible.
Ask us about our drain repair service.
Call 0800 870 8080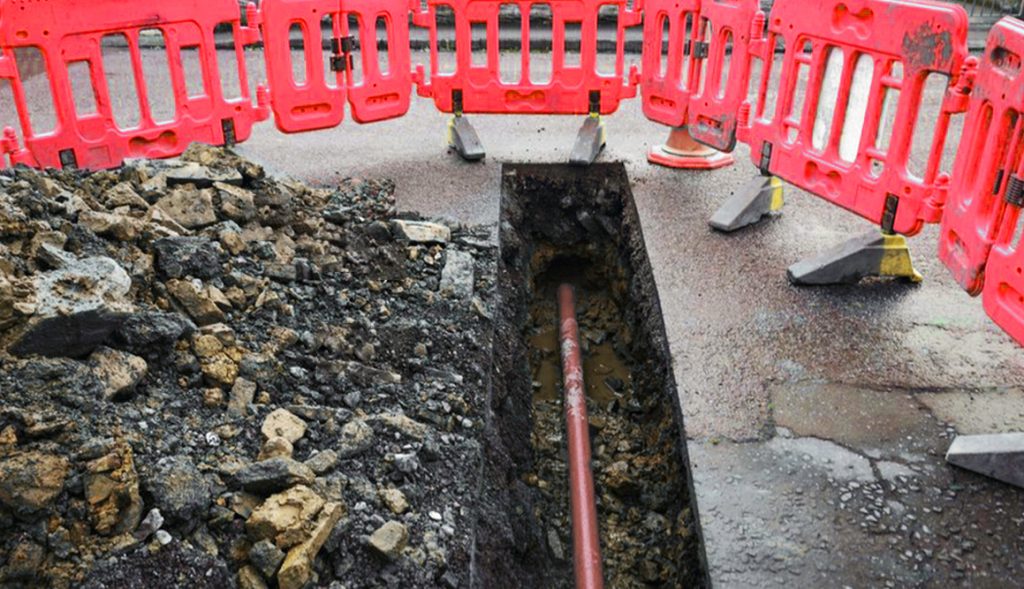 How much will a drain repair cost?
The cost of a drain repair will depend on the size and construction of the pipe, the extent of the damage and its location.
Catalyst will use its expertise in drain surveying to assess what needs to be done to reinstate the drain system to full working order. Then we can give customers a firm price or, in some cases, a clear estimate, for the cost of repairing the drain. This clarity and transparency gives our customers confidence that we will only carry out necessary work and that it will be done to a high standard.
Working with water utility companies
Drains for both domestic homes and commercial premises are connected to main sewers that take wastewater away to sewage works to be treated.
This means at a specific point in the sewer system, the water utility company is responsible for the upkeep of pipes. Our teams will advise our customers whether a blockage or repair problem needs to be dealt with by the water company rather than themselves. Catalyst will liaise with the utility company on your behalf, ensuring that all the information they need is given to them so the drain problem can be resolved as quickly as possible.