Servicing, Maintenance, and Renewal
Carrying out essential maintenance is important to supporting the safety, long-life and cost-effective utilisation of all drainage, clean water supply, plumbing, electricity, and heating systems in their properties.
When each of these assets have reached the end of their life, and maintaining them becomes too costly, the best option is to replace them with new, up-to-date, and more efficient systems.
This is why Catalyst Services UK offers a servicing, maintenance, and renewal service that helps customers get the best value and use out of the assets in their properties, both commercial and domestic.
Preventative drainage maintenance
Our experienced and qualified drainage engineers will arrange with you to visit your property every 12 months, or at the frequency your circumstances require, to clean and inspect your drainage system, greatly reducing the risk of blockages or other maintenance problems.
Drainage rehabilitation and replacement
Where drainage systems are found to have reached the end of their usual life, or where they are damaged beyond reasonable repair, Catalyst can replace pipework and other underground assets with new ones.
We are also experts at using no-dig rehabilitation systems, including patch lining and full lining of sewer pipes, to give them many more decades of useful life. This is less disruptive and usually less costly than excavation and replacement, and has a much smaller carbon footprint.
Off mains drainage maintenance
Septic tank emptying and cleaning
Catalyst offers a septic tank emptying and cleaning service, to ensure your off-mains drainage assets work well, while minimising the risk of loss of service, flooding and environmental pollution.
Sewage treatment plant servicing
We can provide a regular tank emptying service and also carry out the servicing needed to keep sewage treatment plants well maintained and running smoothly. We will provide you with certificated evidence that your system is being maintained to a standard expected by regulatory controls.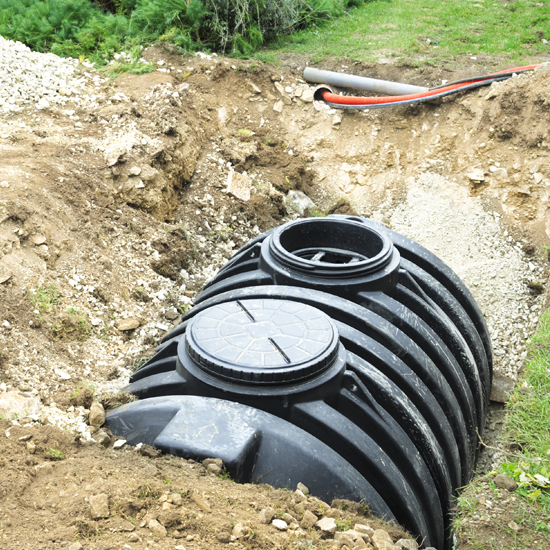 Off mains drainage installation
Where septic tanks and sewage treatment plants have reached the end of their useful life, or are uneconomical to repair, Catalyst can remove the assets and replace them with new ones.
New general binding rules governing the discharge of wastewater into the ground mean some septic tanks need to be modified or replaced. Catalyst will give property owners expert guidance about the most cost effective options to meet these important legal requirements.
Water supply system maintenance and installation
Catalyst are experts in surveying, maintaining and installing water supply systems. Where water systems are found to be so defective they cannot be maintained, or where they have reached the end of the life, we can replace sections of pipes or whole systems.
Our installation teams can use the latest no-dig pipe replacement technologies to replace, renew or reroute water supply systems with the least disruption to your property.
Boiler and heating system servicing
Catalyst can provide service packages to maintain and service boiler and heating systems for both commercial and domestic customers. This work is essential to maintain safety and meet legal requirements, as well as to ensure your system is working efficiently, and not costing you more than it needs to.
Boiler and heating system replacement
Where your boiler or heating system has reached the end of its life, our experienced and trusted gas engineers can renew your system, with a new one that is right for your current and future needs.
This is also the perfect time to consider alternative, more sustainable systems, such as ground source heat pumps, which ensure your heating system is aligned with government plans to phase out the use of gas for heating. We can guide you on the best option for your specific needs.
Asset management support
Asset condition surveys
Catalyst carries out asset condition surveys for insurance companies, loss adjustors, property landlords, property management companies, building engineers and surveyors, and facilities maintenance specialists.
This can be as a one-off task or as part of a programme of planned preventative maintenance. We can also carry out asset condition surveys needed for site development programmes and planning applications.
Site and system mapping
Catalyst technicians can also provide you with a full range of site and system mapping services, using the latest digital technologies to plot and present data about your property and all its assets.
This includes drainage mapping, water supply pipe mapping, gas supply pipe mapping, and electrical system mapping. All these services can be provided for businesses and homeowners.
Certificated work
All our maintenance and asset renewal work is fully certified. Our customers receive a certificate to show assets have been inspected, surveyed, maintained or installed by accredited and qualified experts, so they can prove their properties have been well managed.
Find out more about asset maintenance and renewal services from Catalyst.
Call 0800 8700 8080. Email:

[email protected]

.