National Apprenticeship Week – our apprentices' verdict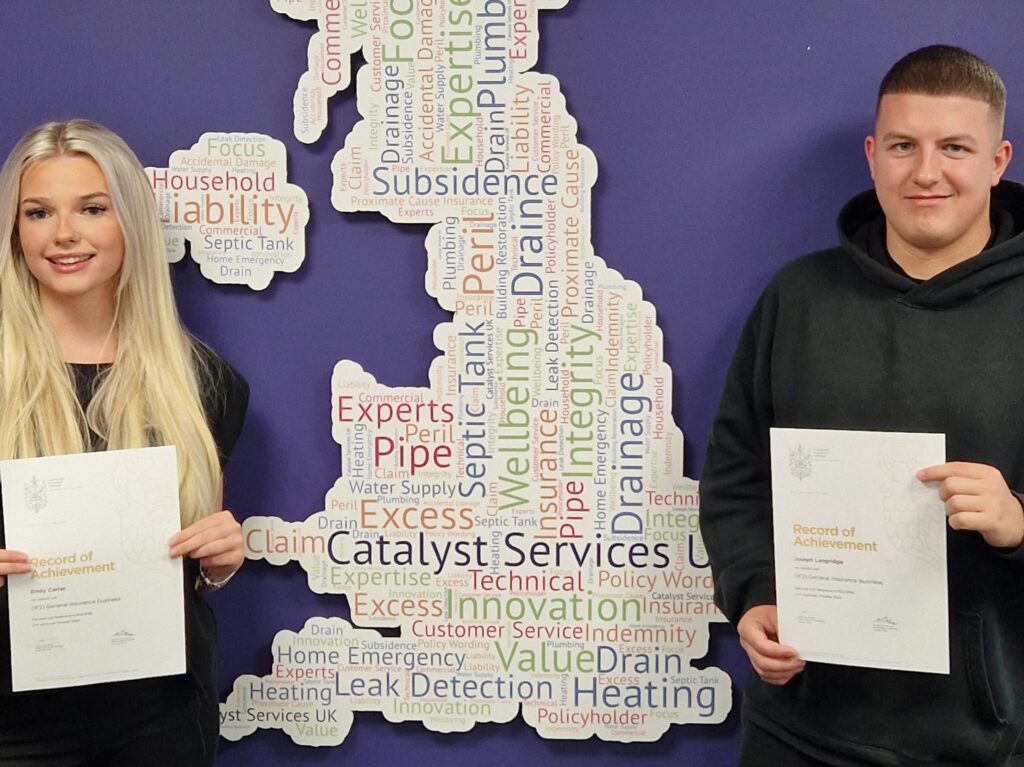 As it's National Apprenticeship Week (6th to 12th of February 2023), we've asked our two apprentices, Emily Carter and Joe Langridge, to explain how Catalyst Services UK's apprenticeship programme is helping them develop a career in the insurance industry.
What apprenticeship scheme are you on?
Joe – It's the Level 3 Insurance Practitioner Apprenticeship and we're studying for it through the Wiser Academy, which specialises in providing training for the insurance industry.
What qualification are you working towards?
Emily – We're aiming to achieve the Chartered Insurance Institute Certificate in Insurance (Claims). I see achieving this an important step in my career at Catalyst. I started as a customer service apprentice, then was promoted to being a claims handler. Studying for the CII Certificate is an example of the opportunities Catalyst has given me.
What level have you achieved so far?
Joe – I'm proud to say I was Catalyst's first apprentice. We've both passed our IF1 and IF2 modules and are now working on our final IF4 module, which specifically covers claims handling, the job we do every day.
How is the apprenticeship organised, and how is it assessed?
Emily – We undertake e-learning with a tutor from Wiser Academy every week. We also have to log the revision we do as we prepare for three exams, one for each module. The fact that we work as claims handlers obviously helps a lot, as does working with some of the most experienced insurance professionals in the business.
At Catalyst, there is always someone willing to help share their knowledge. Though as we're studying the very latest thinking on insurance matters, I like to think we can give something back ourselves as well!
When do you hope to complete your studies?
Joe – Well, we're on our final leg of the journey, as our last exam is within the next four weeks. It's exciting and a bit scary for us both. We want to make sure we complete the apprenticeship with flying colours!
How is Catalyst supporting you?
Emily – We are given time during the working day to attend e-learning sessions. And, as I mentioned, all colleagues are very willing to give advice. Catalyst is very keen and supportive with training. This is just the start of our professional training journey. Through Catalyst, we'll have more opportunities as our careers progress.
How does your growing skills and knowledge benefit Catalyst and its clients?
Joe – It is helping a great deal. The CII qualification enhances technical and professional competence within our day-to-day roles, ensuring we have the skills and confidence we need to perform effectively and efficiently in the workplace.
The CII Certificate also emphasises the importance of customer service and the many rights, rules and standards we work to on a daily basis to give the policy holders of our insurance clients the very best service, something Catalyst is determined to do.
Would you recommend an insurance apprenticeship to others?
Emily – We both would, absolutely. Working in insurance is a great career. There are so many opportunities and so far to go in terms of professional development. In our field of work, also, we're giving urgent assistance to people every day, which is challenging but hugely satisfying at the same time because we can solve their problems.
Find out more about careers at Catalyst
Looking for a new challenge? Want to work for a forward-thinking, dynamic, friendly and growing business? Talk to Catalyst about the career opportunities we are offering. Go to: Careers at Catalyst.