Catalyst named Oldham Business of the Year

Catalyst Services UK has been named Business of the Year in the Oldham Business Awards.
The insurance service specialist was announced as the winner in the £1m to £5m turnover category at an awards ceremony held at Oldham's Queen Elizabeth Hall.
Catalyst Managing Director Brad Jackson said: "It was a great moment to be named Business of the Year, not least because of the quality of the other companies shortlisted.
"Winning the award is testament to the exceptional contribution of the determination and skill of every member of the Catalyst team, especially during the COVID-19 pandemic, to give our clients brilliant service, which has ensured the business continues to thrive and grow.
"We're committed to playing a full part in the Oldham and the North West business communities, because we experience the benefits of collaboration and want to be seen as an employer of choice across the region."
Sustainable growth
Catalyst, based in Delph, had also been named as a finalist for Employer of the Year but was just pipped on the night by retail design and fit-out specialist Ripple.
Catalyst invited all colleagues to the awards presentation ceremony on Friday 7th October, taking place for the first time in three years due to the disruption caused by the pandemic.
Those who could attend enjoyed a glittering occasion, hosted by Oldham Chronicle Business Editor Martyn Torr and ITV's Caroline Whitmore.
The Oldham Business Award judges had been looking for evidence of strong financial and commercial success, outstanding leadership and vision, and a sustainable growth plan. They also wanted to see evidence of economic, social and environmental contributions to Oldham communities.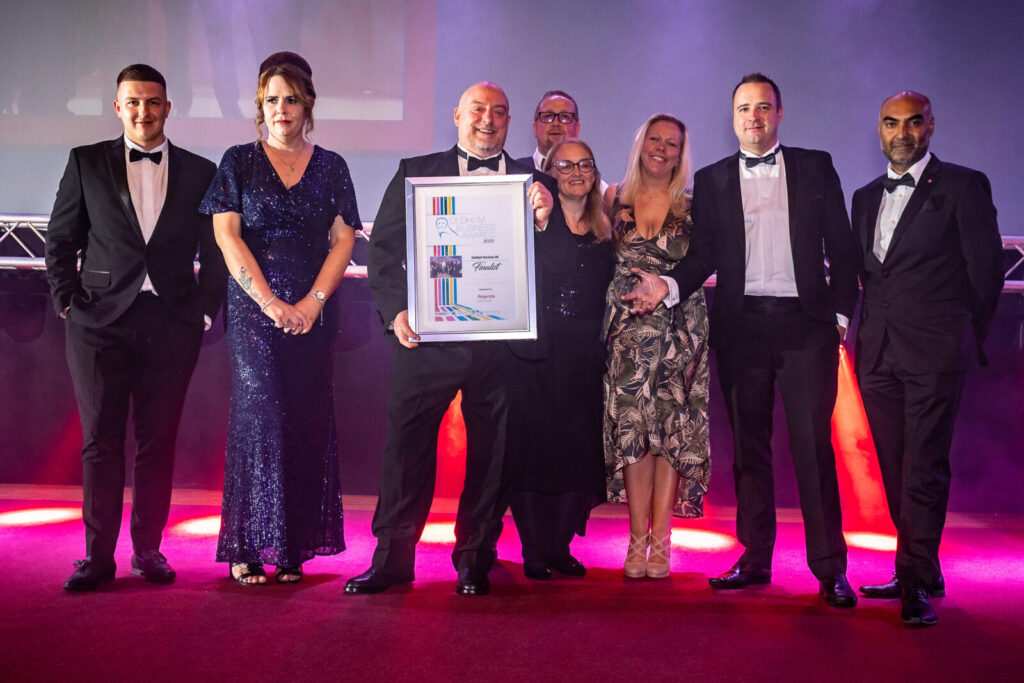 Local charity support
Catalyst could point to a track record of continual growth and high performance since it was founded in 2014, as well as a clear and exciting strategy to take the business forward.
The company's submission cited a project to develop and launch a home emergency repair service for a national insurance client in a matter of weeks during the pandemic.
It has an excellent track record of internal skills training and supporting colleagues in gaining professional qualifications.
The Catalyst team also backs local good causes, including raising £1,000 for the Mahdlo Youth Zone charity with a Saddleworth 3 Peaks Challenge, and creating a wildlife pond close to its office.
Find out more
Are you interested in working for Catalyst? View our careers page. Find out more about Catalyst services. Call us today: 0800 870 8080.