Emily and Joe achieve insurance qualification success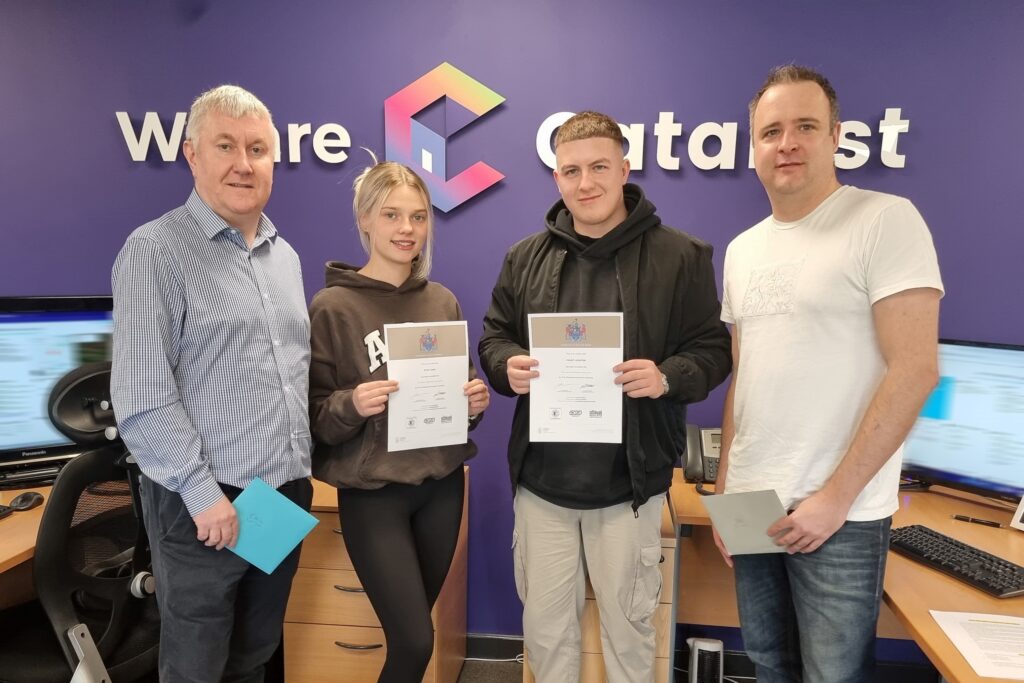 Catalyst colleagues Emily Carter and Joe Langridge have taken a major step forward in their careers as insurance professionals by being awarded their Chartered Insurance Institute Certificates.
The qualification is a major milestone in their Level 3 Insurance Practitioner Apprenticeships, started in 2021. They are now completing final studies towards becoming Certified Insurance Practitioners.
Catalyst Services UK Managing Director Brad Jackson (pictured above, right) joined Operations Manager John Slattery in presenting Emily and Joe with their certificates, along with £250 Amazon vouchers awarded in recognition of their achievements.
Professional approach
He said: "Supporting colleagues like Emily and Joe is very important to us, not least because it underpins our professional and high quality approach to client and customer service.
"They've come on leaps and bounds since joining Catalyst. Studying through the apprenticeship scheme has been central to their success, with both winning promotion thanks to what they've learned and how they've put it into practice. We're pleased for them and proud of their achievements."
Both colleagues are claims handlers and have found the knowledge they have gained while studying to achieve their CII Certificates (Claims) has greatly helped them with their work.
Helping people
Emily said: "It's given me extra confidence when advising customers about their claims. Being able to give customers clear and accurate advice is vital so they know how their claims can be progressed.
"I like working in insurance because I like getting things done. At the end of each day, I can look back and see how I've helped people who are facing difficult problems, making their lives better. It gives a sense of achievement."
Joe said: "I've gained knowledge that I can put into practice every day. In some cases, I can advise more senior colleagues because we're learning the latest information about insurance claims.
"Catalyst has been growing quickly over the last year or so, with new colleagues joining, so I feel good about being able to pass on what I've learned to help them settle in to their new roles. It's helping us work together as team."
Sharing knowledge
The pair have completed three course modules, mostly through e-learning, supported by a tutor from Wiser Academy. They have just completed the last module, which covered claims handling, the job they both do.
Emily said: "It's been a challenge at times. But at Catalyst there is always someone willing to share their knowledge and encourage us. And, as Joe says, we're getting to the point where we can share our knowledge and experience with our colleagues, which shows how far we've come."
Find out more about careers at Catalyst
Looking for a new challenge? Want to work for a forward-thinking, dynamic, friendly and growing business? Talk to Catalyst about the career opportunities we are offering. Go to: Careers at Catalyst.